Spotlight on New Gallery Artists: Allison Maria Rodriguez, Gin Stone and Sylvia Vander Sluis
This months spotlight on new gallery artists we are featuring Allison Maria Rodriguez, Gin Stone and Sylvia Vander Sluis. You can view the current work of these artists in Thrive, our core member exhibition which will be open for its final week February 21-25. We hope you enjoy reading more about these artists, their studio practice and their artwork.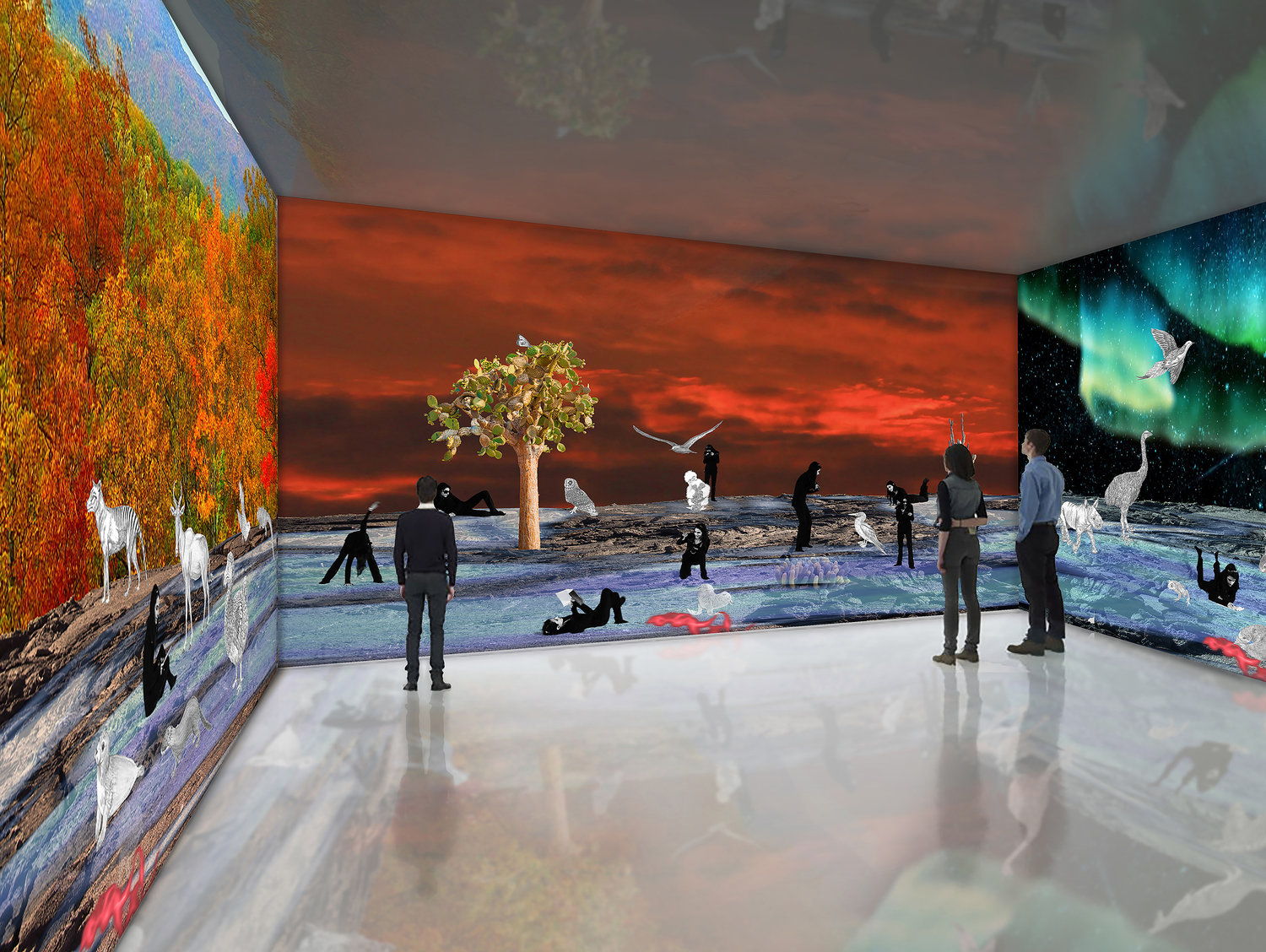 I'm an interdisciplinary artist that works predominantly in video installation and new media. My current work focuses extensively on species extinction, climate change and political agency. I'm interested in the interconnectivity of humans with other species, and the beautiful and innate systems of existence that we tend to ignore. I use the language of art to communicate in a way vastly divergent from scientists and policy makers; a way that touches upon the limitations of language and endeavors to open up an experiential space in which people can really connect to other species and to our planet.
I tend to merge and blend mediums to create fantastical landscapes which serve to represent mental spaces. I use live video, digital animation, photography, drawing, collage, and installation to create new pictorial spaces for the viewer to explore aesthetically, conceptually and emotionally. Ultimately, I use art to create an opportunity for connection and engagement, and I strive for my practice to be relevant to the contemporary challenges facing our planet.
This year I was honored to win the grand prize at the Human Impact Institute's 2017 Creative Climate Awards for my 3-channel video installation "Wish You Were Here: Greetings from the Galápagos". I'm looking forward to summer where, as a 2018 Earthwatch Artist Fellow, I will be working at the Churchill Northern Studies Centre in Manitoba on their "Climate Change at the Arctic's Edge" project.
This humane taxidermy work represents many things to me: the reuse of fishing gear that would otherwise go to a landfill, and helping raise awareness of the plight of our oceans, now increasingly filled with discarded gear which entangles marine life. Also, it's an enormously abundant resource here on Cape Cod where I live and work. It's a way of life here, and creating art from it is a way to honor that. I work closely with The Cape Cod Commercial Fishermen's Alliance in Chatham, Massachusetts for procurement of previously fished and retired longline gear for my work.
Cape Cod Fishing 101:
Fishing Area: Georges Bank and Gulf of Maine
Fishing Style: Longline
Fleet Home Port: Chatham, MA (photo of my friend Greg's boat, the Constance Sea, heading in)
When the line is ready to be retired, the Cape Cod Commercial Fishermen's Alliance in Chatham will take it off the fishermen's hands so that it won't end up in a landfill. Enter me.
After I pick up the line buckets, I clean the line, remove the rusty hooks and begin the dying process. After which the colors are sorted for certain pieces.
When a creature is begun, I map out the fur patterns for the piece. When using a form with a cutaway of a neck or body portion, I refer to veterinary manuals and MRI imaging to get the interior structures anatomically correct.
If a creature has teeth or nails, I use veterinary manuals as a reference and quahog shells as a material and cut and polish them to shape. Eyes will be made out of beach stones, lead fishing sinkers, or shells. Then the cutting and high temperature glue adhesion process begins.
Most of the names of the animals come directly from the fishermen. They represent the different fishing spots they frequent while out in the Gulf of Maine. A few examples are: Spar Grounds, the Canyons, Jeffrey's Ledge and Cove of the Rip.
In my studio there are all sorts of materials, from wire mesh to wool balls, second-hand dresses to fabric remnants and yarn. These are my paints and pencils.
Interlocking fabric and yarn creates sensuous, textured surfaces. Each element of the weaving – sari silk, chiffon, plastic bags or an evening dress – has a unique visual and tactile quality, interaction with light and color. Woven and knotted around the warp thread, these elements reform. Each has a voice, but becomes part of a new whole.
I shape weaving over wire or plastic mesh, and it becomes a metaphor for something experienced: the reflections in water, layers of earth and rock, or the human body. A woven form can be airy or dense. You can see through it or stay on its surface. It becomes a physical presence with a life of its own.