Spotlight on New Gallery Artists: Chelsea Revelle, Mary Marley and Jim Banks
We recently acquired a crop of new and exciting Core Artist members! Over the next couple of months we will be introducing them through a series of blog posts. This month we are featuring Chelsea Revelle, Mary Marley and Jim Banks. Below the artists share a bit about their studio practice and their artwork so you can have a closer look!
"As a mixed media assemblage artist, I am constantly collecting unique odds and ends that I keep organized in my Jamaica Plain studio. I'm attracted to discarded materials and love finding vintage wallpaper books at flea markets, old dollhouses from Craigslist, even interesting metal knobs on the street.
I'm always interested in how to combine materials in unique ways. I like the challenge, the brainstorm and the critical thinking that goes into figuring out how and then the trial and error of constructing. I've made molds for plaster using Sculpy and Legos; put fabric through my ink jet printer; screen printed on glass. I'm never exactly sure how something will turn out, and it's usually after some act of destruction, whether scraping away layers or pulling pieces apart, that everything comes together in the end.
I am enamored by artists such as Gordon Matta-Clark, Rachel Whiteread, Doris Salcedo, and Robert Rauschenberg, (I even have a fish named Milton, after Rauschenberg's real birth name) - all of whom can manipulate and reconstruct everyday household objects. I'm drawn by those themes of domesticity, isolation and the related juxtapositions."
"My career as an artist began with a focus in figurative oil painting. Through the years, I have extended my interests to paper cutting, collage, and mixed media abstraction. As recently as the last five years, I have found myself working exclusively in encaustic painting.
I'm attracted to encaustic because of the endless possibilities this ancient medium offers. From traditional painting techniques to collage, photo transfer, and textural sculpture qualities, the versatility of encaustic paint holds a great investigative quality. The use of encaustic allows for layering color on color to achieve a luminous surface. My use of color is inspired and drawn from the organic world. Working abstractly, I create contrast by incorporating patterns and frameworks in an nontraditional way. The balance of a piece is achieved by layering a visual harmony set against chaos.
My process of working is highly experimental. I move between many different pieces at once, adding different elements from printmaking, collected papers, mixed with oil and encaustic paint."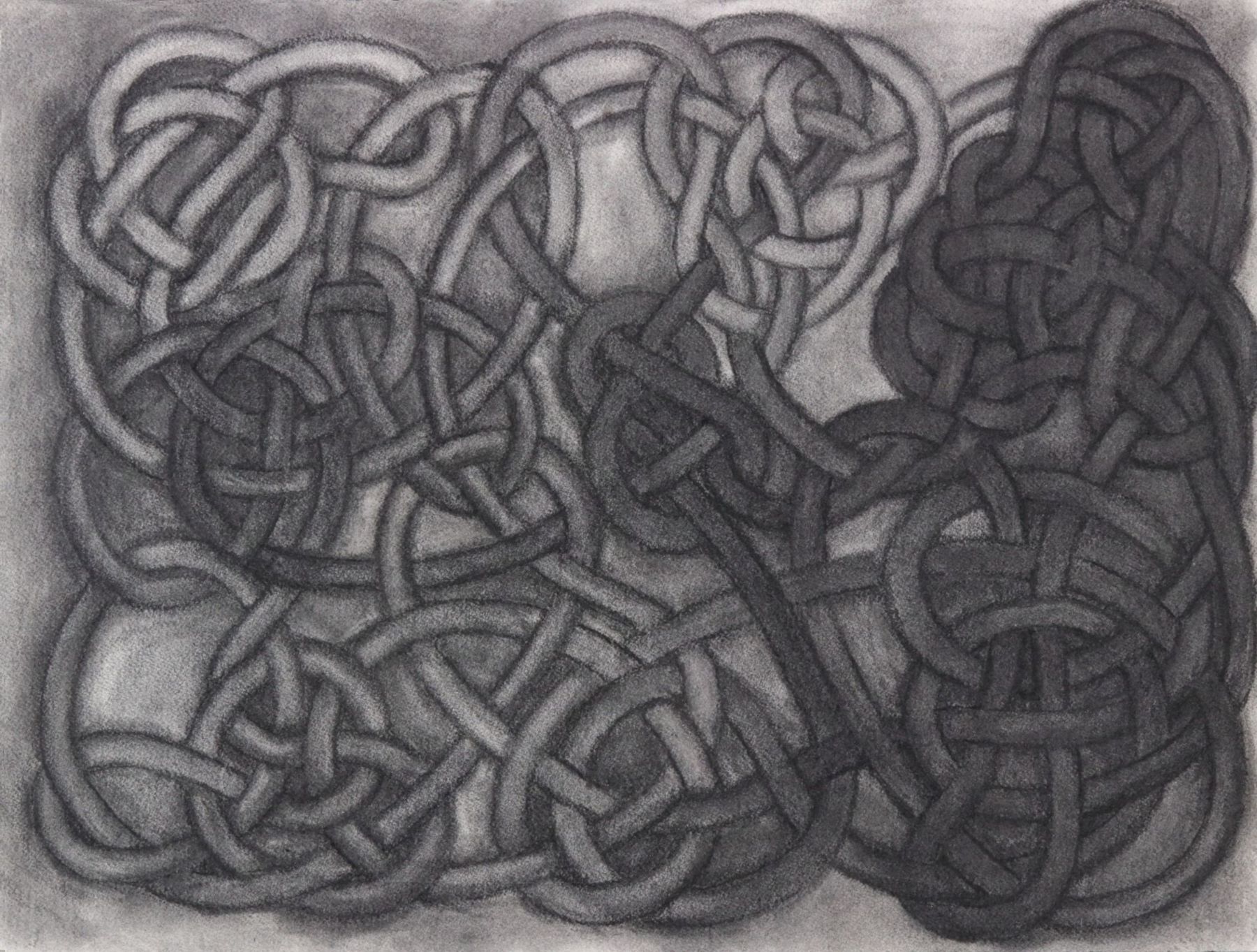 "I didn't get into art until my junior year in college. It was a fluke that I even got into an art class and my first thought was, "Wow! People actually go to college for this? It's like cheating!"
"I pursued making art for several years after graduating from Bard College, living in Brooklyn, Hawaii, San Antonio, and lots of traveling to and fro, hither and yon. When my son was born, he said, "Feed me, Daddy." That endeavor resulted in an MBA and working in finance at a large corporation. But, alas, art beckoned, and I returned like a refugee."
"I always feel like I'm not quite sure what I'm doing, so I experiment a lot with imagery and materials. Consequently, my work has always run in several different directions simultaneously. Over the past few years, my work has fallen into four distinct catagories: Scribbles, Tangles, & Knots; abstract wood carving; paintings & drawings of weeds; and WeodGeard (Anglo-Saxon for Weed Garden), growing weeds as installation."