April in the Annex: John Daly, Veronique Latimer and Katalina Simon
This April the Annex Gallery will feature John Daly, Veronique Latimer and Katalina Simon. The show will run from April 3rd through April 28th with an opening reception on Friday April 5th from 6-8 p.m. In this post the artists share their ideas and process.
John Daly
My passion since early childhood has been engineered landscapes – the "machine in the garden". I have always been interested in the historical, economic, and technological influences that shape the land's outward appearance. But, I am also an artist in the Romantic tradition and appreciate the aesthetics of landscapes at a deeply emotional level. Thus, I work in both artistic and historical/technical frameworks: I split my time between being an artist and an historic preservation consultant. Through the latter, I document the remains of America's past industrial and engineering accomplishments.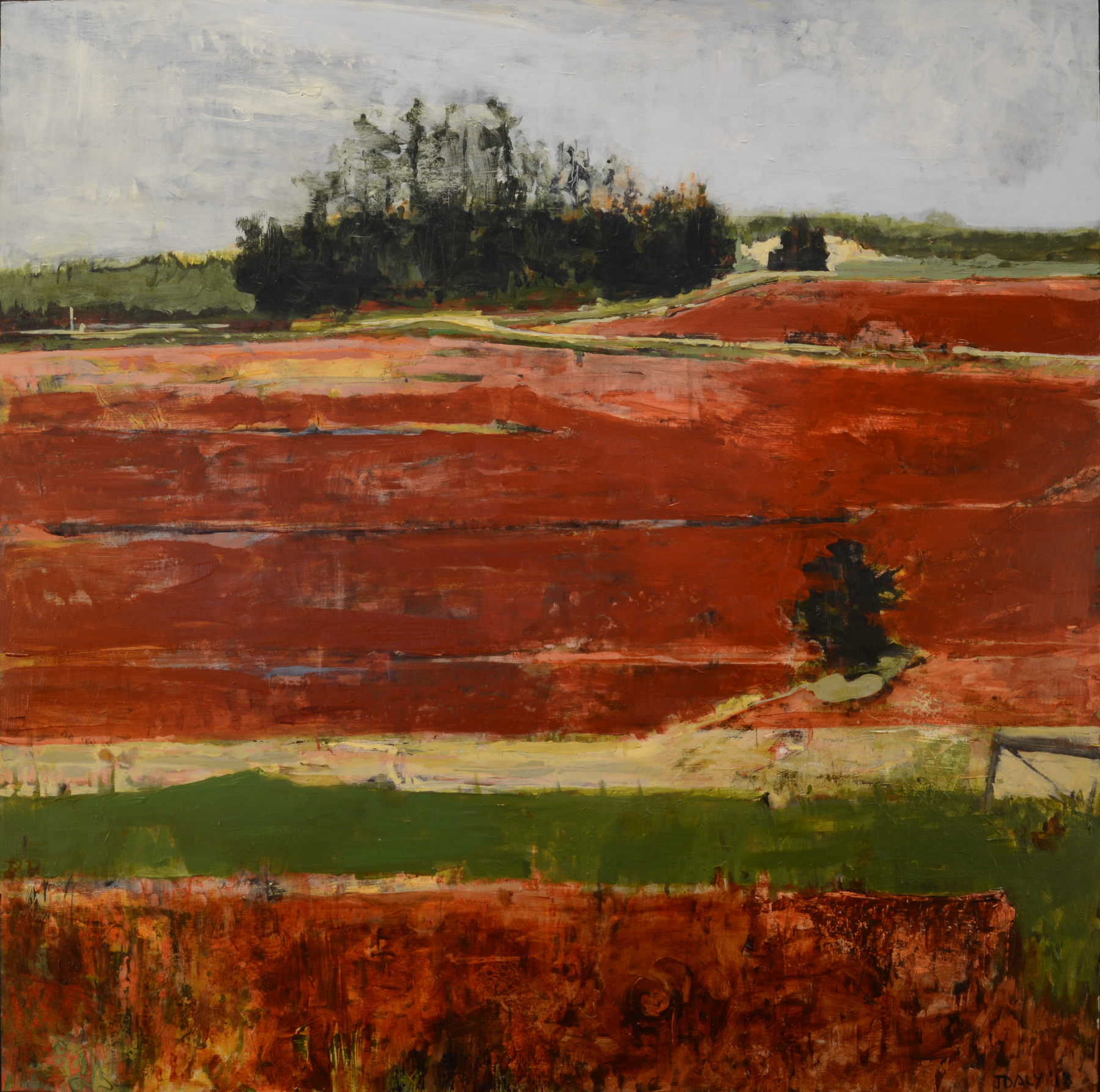 My artistic process strives to combine Romantic and technical outlooks. Using first-hand impressions, as well as photographs, I make, remake, and reconstruct, in paint, multiple versions of a landscape. This process is heavily influenced by the working techniques of the Abstract Expressionist movement. I want to re-evaluate the formal aspects of a place – its natural and engineered components – in order to move beyond a strictly realist approach and pose to the viewer alternative aesthetic potentials of a landscape. I typically portray a location through a series of paintings. Early works in a series may be anchored in realism; later paintings shift towards increasing levels of abstraction. Thus there may be an appearance of stylistic evolution within a body of work , even though each individual piece is the product of a consistent artistic process.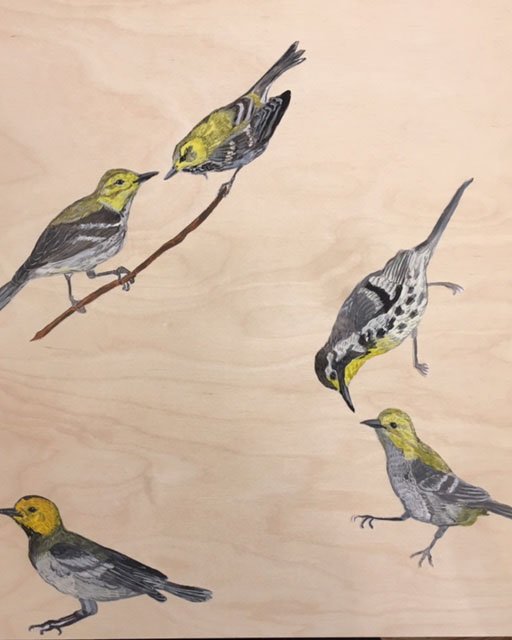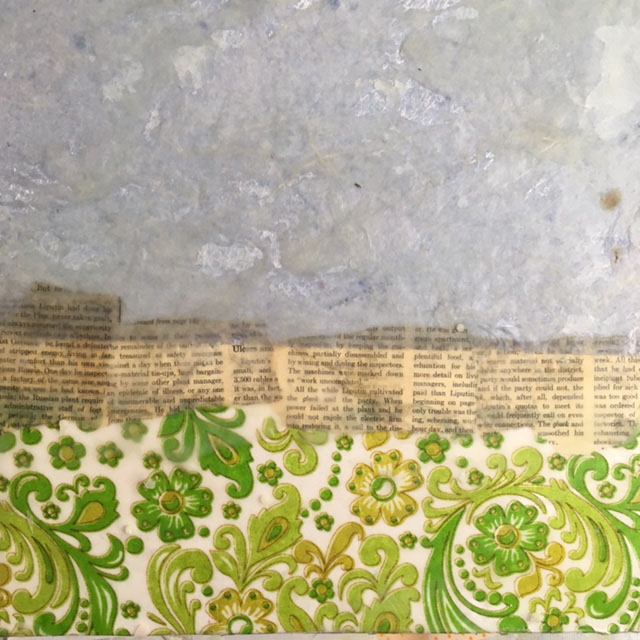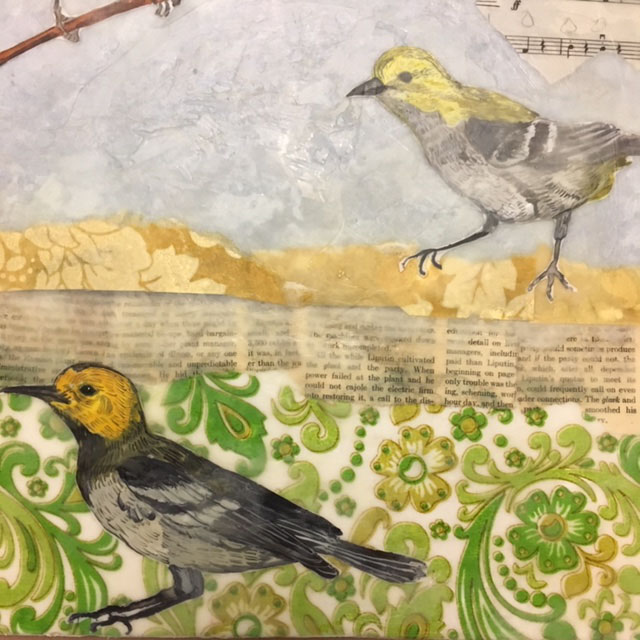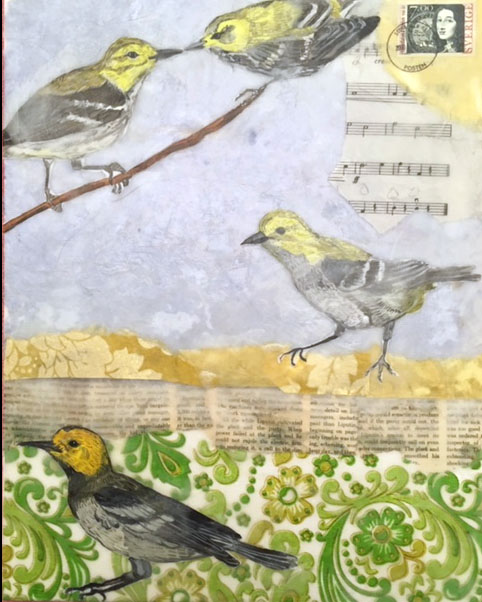 Typically, I begin a piece by working on a series of birds that I think might work well together. At this point, I usually have no idea where they will be situated or even the size of the painting they'll eventually reside in.
Lately, I've been using gouache on Yupo paper for this step. As you can see in image 1, I just filled the page with this particular kind of bird. After I feel like I have enough I will cut them out and play around with potential compositions, as in image 2. Once I have a general idea about which birds I'll use and panel size, I move onto getting a base layer of encaustic medium applied. Here I play around with color combinations and textures. This process is created by layering paper in the wax.
I often use hand made papers and old magazine pages, or photocopies of old letters, as you can see in image 3. I bring the birds back into the surface and add any additional collaged elements that I want to appear closer to the surface of the painting.
Usually, the last thing I like to add to the painting is a stamp, on the upper right corner. Much of my work is about communication and memories of the past, and I think of each one as letter from a long time ago. The finished product from the series of images can be seen in image 5, I Wish I Could Remember that First Day, 16" x 20".
Katalina Simon
"The Land Beyond the Forest" is an ongoing series of photographs that have taken me far into rural Transylvania and up into the Carpathian Mountains. I have visited the region four times over the course of the past year trying to capture the poetry and charm of a way of life that is fast dying out. The impetus for the project was the memory of my childhood summers spent in a village in neighboring Hungary. My memories of the village are magical and my summers felt like l was part of a fairy tale. I was oblivious to the poverty and hardships people faced and only saw the kindness and charm of village life. In my image making I strive to capture storytelling moments that recapture these childhood memories and reveal the charm and essence of an older generation and of a dying way of life. My images are domestic tableaux and portraits with a strong emphasis on natural light and color.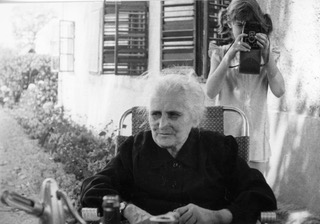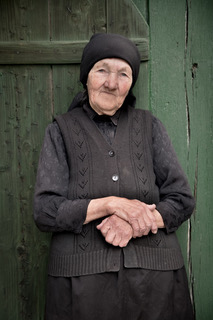 Katalina Simon is a British born photographer with roots in Eastern Europe. Her interest in photography started as a child when she was told that photography was not allowed in many public spaces in the Eastern Block. This early experience taught her the potential power of the captured image and that rules are made to be broken.
Her style of photography today emphasizes her strong connection with history and the mood of the environments she photographs. Her image making forms only part of a larger goal of experiencing a place, learning about a new culture or understanding a person or a place.
Katalina is a graduate of the Professional Photography Program at the New York Institute of Photography. She is an exhibited member of the Griffin Museum in Winchester, MA and the PhotoPlace Gallery in Middlebury, VT.