Patty deGrandpre & Nan Hass Feldman: Inspiration & Process
In conjunction with "Recreating Nature," on view from August 1st through August 26th, we will continue to introduce you to some of our Associate members, discuss their work, their inspiration and their overall artistic practice. 
Today we bring you the inspiration and process of two associate artists, Nan Hass Feldman and Patty deGrandpre. These two artists have a keen eye for color and attention to detail, which transports their viewers into self-reflecting worlds. You can see more work by Feldman and deGrandpre at the gallery in the associate member group exhibition "Recreating Nature," on view through August 26, 2018.
Patty deGrandpre: Happy Mistakes
I love the art of the print. From a multicolored silk screen to a simple carbon copy, I love it all. Back in the day, I had a small color copier that I would use to copy all sorts of images. I would cut the copies up as well as other materials I had accumulated and make collages. In my haste one day, I fed a piece of vellum into the copier instead of copy paper. The vellum was smooth and non-absorbent so the ink pooled on the surface, smearing a bit, creating interesting colors, tones, and edges. This intrigued me. Why can't I use my printer as a tool? Not just a tool for an office but a tool for an artist.
That copier is long gone. I have graduated to a Mac computer, 2 scanners, and an Epson R2000 inkjet printer. With these tools, I create "digital plates" by scanning hand drawn and found images that I then manipulate with my computer. I have hundreds and hundreds of them. I treat the "plates" like any other plate or image transferring method. Some works are printed once after I have combined or layered them with my computer creating a digital collage. Other works are created by printing the plates one at a time on smooth surface media prepped with printmakers ink, allowing the ink to dry in between each run through the printer. This can take a while as I like to use smooth non-absorbent media such as vellum, drafting film, and photo paper. One piece may have to be put through the printer as many as four times.
I also create prints with a more tradition method. I often will combine the two techniques and print a digital inkjet image onto a traditional monoprint. This technique that I have discovered is delicate and time consuming. It requires a lot of ink. I am often printing on media that is not intended for an inkjet printer. I have had my failures and mistakes. Interestingly, some of my favorite pieces started out as a mistake but somehow it worked... a happy mistake.
Purchase Patty deGrandpre's work by contacting us directly at director@fsfaboston.com. Patty's work is also available for purchase on 1stdibs.com. 
Nan Hass Feldman: The Floating World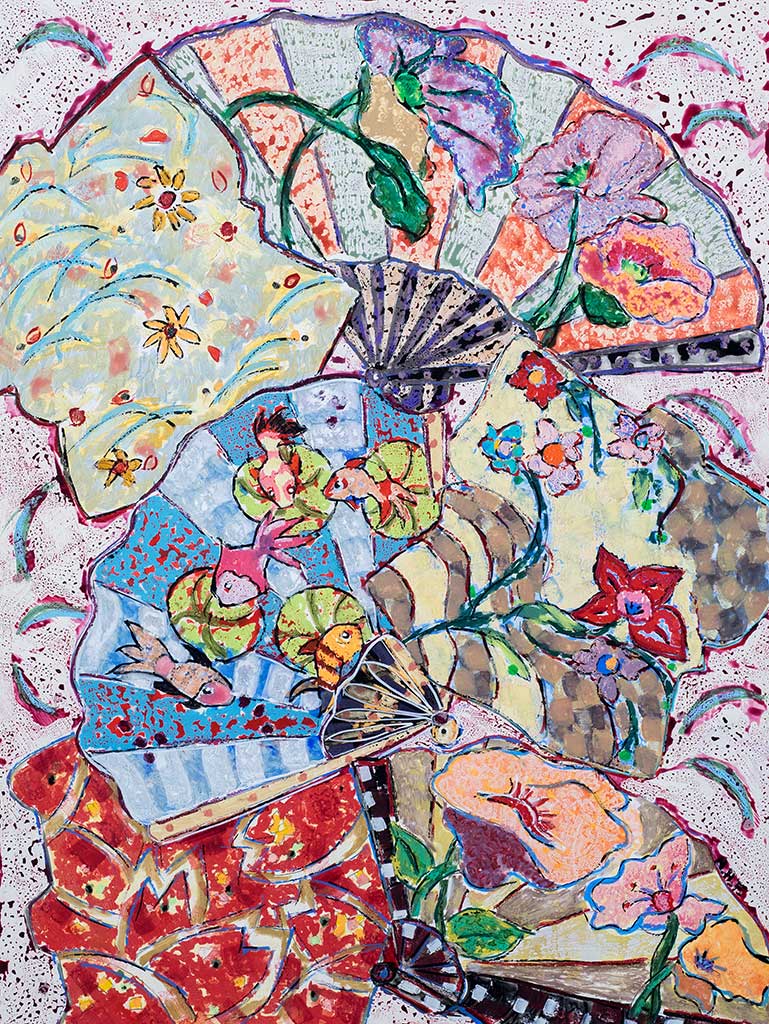 I delight in making my work overflow with luscious, color-laden content to project a joyful and complex enthusiasm for life, my everyday surroundings, and my experiences abroad. So I knew I would be inspired by my trip to Japan. However, it was not the landscape, the buildings, or the people that I ended up being swept away by, but the symbols of Japan and the history of the Floating World, which referred to the extravagant and stylish luxury of the Edo period (1615-1868).
I created my own "Floating World" using some of the souvenirs I bought there as gifts, such as lovely fans, coasters in the form of kimonos, colorful handkerchiefs, and a little shrine. These objects were my inspiration to let my mind be totally free to use dreamlike compositions in order to capture the array of rich sensory experiences through my own designs and flights of fantasy.
Purchase Nan Hass Feldman's work by contacting us directly at director@fsfaboston.com. Nan's work is also available for purchase on 1stdibs.com.