THE ANNEX
October, 2019
The ANNEX is a section of the Gallery where we spotlight new work by regional artists.
Jane Cohen creates non-objective paintings because she finds the creative process honest and satisfying. A single mark or line on a blank surface provides a starting point for an intuitive exploration of the visual language found in abstraction. Working in mixed media: graphite, acrylic, collage, oil and cold wax, allows her to layer, rework and develop textured surfaces. There is a powerful process between aesthetics, shape and color. Each painting results in the discovery of things unseen.
Cohen's painting is a spontaneous process, an organic evolution of mind and matter. During her exploration, improvisation and play, epiphanies occur in the work. She is drawn to the physicality; making marks, scraping, drips, layering, textures, color and shapes… having fun, using her sense of design the results are compositions that are balanced and considered. In addition, the works are intuitive and from a place where there is no preconceived idea of what will be the finished painting.
Jane Cohen has a BFA from the University of Kansas where she studied drawing and painting. She lives and maintains a full time studio in Canterbury, NH. She has exhibited in numerous group and solo shows. Her work is in private and corporate collections across the United States and Internationally.
Deborah Drummond is an artist working in painting, collage, and mixed media. In contrast to her profession as a graphic designer and illustrator, the abstract approach to painting is a more natural path of personal expression.
Although she continues to experiment with different approaches and media, generally she forgoes the planned result, preferring to exercise her mind's eye by loosely sketching concepts, looking for exciting interactions of color and shapes and events in her day. Drummond reacts to the resulting imagery while resolving the questions and problems it presents in the conversation of colors, shapes, textures and matter. Currently, she is exploring a multimedia approach, building layers with transparency and textures often mono printing and adding transfers and collage with her stash of painted and found papers.
Drummond has worked as a professional illustrator and graphic designer. She studied Illustration and Design at the Art Institute of Boston She has exhibited in group and solo shows in the greater Boston area and is an active member of several artists organizations.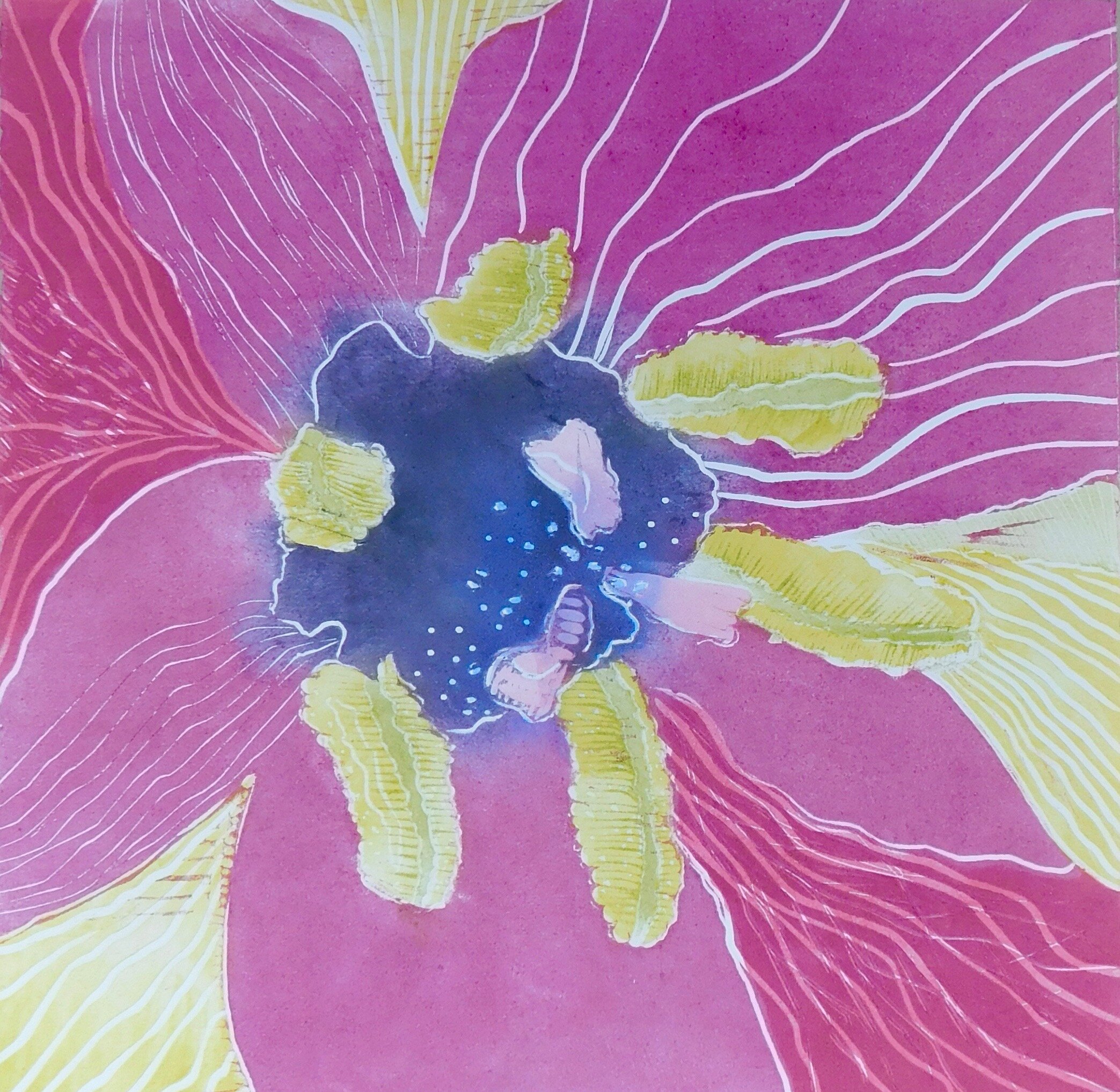 Barbara Corrigan been painting and printmaking since 2005. Her art has two central themes. While she often illustrates the lives she has witnessed while living and working in developing countries the work chosen for this exhibit shows the vast and coyly mysterious animated worlds of our oceans. She finds excitement in representing just moments of ocean life while knowing all too well how much is hiding levels below the sea. There are countless animals of whom we only catch a glimpse, but these tiny moments hold significance and potential for the imagination. She cuts or burns mylar and yupo to make stencils for monotypes, in addition to using etching plates and carved woodcuts for her prints.
Barbara Corrigan is currently a Concord-based artist, but she has significant international experience. In 2016 she returned from three years in Africa that included a job in TheGambia and a 27-month Peace Corps term in Morocco. Prior to that she taught art at the American School for the Deaf in Hartford, CT. Corrigan has a B.A. in Elementary Education, University of Massachusetts, Amherst, MA 1974, a M.A. in Education of the Deaf, Gallaudet University, Washington, D, 1979, and an AA in Fine Arts, Manchester Community College, Manchester, CT, 2007. She attended the School of the Museum of Fine Arts, Boston, MA, 1983-1987