THE ANNEX
March, 2019
In March, we see artists Damon Campagna, Deborah Peeples and Ponnapa Prakkamakul expose
the human experience through mark-making and collecting. Using printmaking, painting and encaustic, these three artists
collect, expose and obscure our surrounding environments.
The ANNEX is a section of the Gallery where we spotlight new work by regional artists.

Through drawing, painting and printmaking, Damon investigates methods in which the most elemental human markmaking information, lines and loops, could be cataloged and recorded in an existential attempt to define "self." As the artwork is intimately linked to the process of its documentation, he also asks "Who would bear the consequences of both obsessively producing and collecting in a pursuit of the potentially unknowable?" If one assumes basic markmaking is as unique to the human being as a heartbeat, running gait or sleep pattern, can it be similarly quantified, recorded and studied? Would it enable one to establish any sort of deeper, metaphysical "meaning" behind one's art, and if so, what would it be?
Damon Campagna is a second-year MFA 2D candidate at Massachusetts College of Art and Design. He has 15 years of experience working in the museum field which informs his work (including documenting and archiving almost ten thousand objects for the New York City Fire Department, including their 9/11 World Trade Center-related artifacts). He received his BFA in painting with departmental honors from Rhode Island College in 2016 and was awarded the Antonio Cirino Memorial Fellowships and Patricia Doran Scholarships in 2017 and 2018. Damon held exhibitions at AS220 in March 2017, 2018 and 2019, MassArt Art Auctions andYear Two Graduate Exhibition, Providence's Chazan Gallery and was included in Abigail Ogilvy Gallery's Fresh Faces exhibition.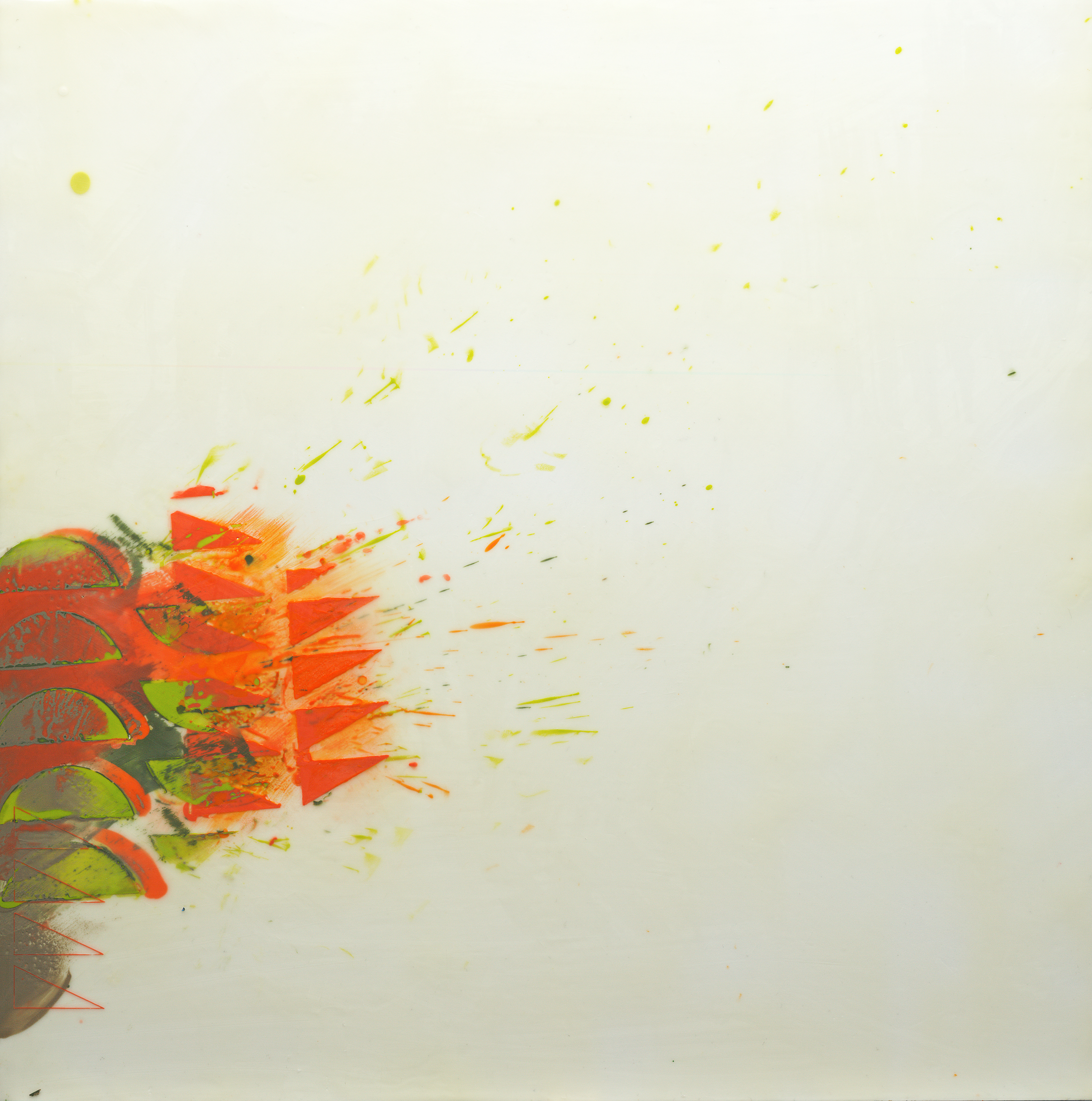 Deborah Peeples is an abstract artist who paints with molten pigmented beeswax on wood panels. Her process of alternatively building layers, overlaid and adjacent, and scraping them back, allows her to choose how much to expose or obscure. She sees this as both method and metaphor for uncovering and connecting with the inner self. As an adoptee and the parent of a transgender person, her work reflects a lifelong interest in how much of ourselves we choose to reveal and the superficial structures we create as protection. Beneath Peeples' polished surfaces, shapes appear and disappear, losing form or popping to the surface as they journey through sensual pools. The lush color and saturated silhouettesinvite you reflect, take a closer look, and explore more deeply. Peeples typically works in series, imposing problems and limitations aimed to shorten the emotional distance between the artwork and viewer. These paintings are part of a larger body called "Desire and Longing," which explores concepts of discipline, restraint and abandon.
Deborah Peeples received a BFA from Washington University and also studied at the Lake Placid School of Art. Her work has been exhibited nationally and is held in private collections across the U.S. After working as a community and social activist and raising her family, Deborah returned to a full-time studio practice three years ago. She lives and works in Cambridge.
Ponnapa Prakkamakul is a painter and a landscape architect based in Massachusetts. Her work explores the painting process as a tool to experience and understand the surrounding environment. Beginning at a site, she uses the performative acts of searching, studying, and collecting painting materials in addition to sketching in situ to establish a more immersive experience and engagement with the landscape. In her studio, collected materials are then used as painting tools and applied on paper as a painting medium, aiming to create a greater connection with the site. In her most recent work, Ponnapa used this process to explore a historical site with man-made structures and introduced rust as the paintingmedium. This painting process not only establishes a connection between herself and the landscape, it also fosters a deeper connection to place as an immigrant – cultivating a sense of place through art.
Ponnapa holds a master degree in landscape architecture with honors from the Rhode Island School of Design where she has been a guest critic and visiting speaker. In the Spring of 2018, Ponnapa was a recipient of the Manoog Family Artist Residency program at the Plumbing Museum in Watertown with four paintings in the museum's permanent collection. In addition, several hybrid digital drawings were published in Landscape ArchitectureFrontiers magazine, as well as the book Representing Landscapesby Nadia Amoroso, and featured on the cover of the international magazineTopos. Her work has been exhibited nationally and internationally.